theNewsWorthy: Thursday, April 11th, 2019
Today's episode is brought to you by Care/of. Go to TakeCareOf.com and use code NEWSWORTHY50 for 50% off for your first box.
Become a NewsWorthy INSIDER! Just click here to sign up: https://www.theNewsWorthy.com/insider
Want more? I got you.
All the news stories mentioned in today's episode are listed with links below, so you can spend as much -- or as little -- time as you want perusing the latest happenings...
(Scroll down to read more about our Thing to Know Thursday topic …)
FBI Spying & Tax Returns: Attorney General William Barr said he thinks "spying did occur" during Trump's presidential campaign and wants to make sure there was no improper surveillance by the FBI in 2016. Democrats are questioning if he's acting independently. Also, Treasury Secretary Steven Mnuchin admitted his agency's lawyers talked to the White House about releasing President Trump's tax returns (some say that could be interference), but he also says Democrats' request for the tax returns may be inappropriate.
Read more (Spying?): AP, NBC News, NYT
Read more (Tax Returns): WSJ, NYT, FOX News

Brexit Delay 2.0: Brexit has been delayed again. At an emergency summit, E.U. leaders agreed to push back the deadline for a second time (this time, until October 31st). The extension is meant to be flexible, allowing the U.K. to leave before October if Parliament agrees on a separation deal.
Read more: NYT, The Guardian, AP

Disney+ and more: Disney will give a major presentation about its new streaming service (Disney+) to investors today. Disney also announced 10 new programs you can expect to see on the platform. Also in streaming video: YouTubeTV just raised its prices to $50 dollars per month and T-Mobile is going after cable TV with TVision Home. Read more: WSJ (Disney+), Variety (YouTubeTV), Deadline (TVision)

Walgreens Primary Care: Walgreens already has walk-in clinics and pharmacies, but now the company is partnering with VillageMD to open primary care clinics. For now, Walgreens will open five clinics in Houston, and CVS is also testing something similar.
Read more: Forbes, CNBC

Amazon & Climate Change: Amazon employees are pushing the company to take steps to combat climate change. More than 3,500 workers wrote a letter to their bosses calling for an end to the use of fossil fuels. Amazon said it plans to reveal its company-level carbon footprint and related goals and programs later this year.
Read more: CNBC, Engadget

Amazon Go Cash: Amazon may start accepting cash at its tech-focused automated Amazon Go convenience stores. People were complaining about the cash-free business, saying it discriminates against lower income shoppers who may have less access to credit cards.
Read more: The Verge
Magic Johnson Resigns: Magic Johnson shocked a lot of people by announcing his resignation. Johnson was the Los Angeles Lakers President of Basketball Operations. He did not tell the team's owner or manager about his decision before announcing it in front of reporters. Johnson says he wants to go back to who he was before he took the job.
Read more: ABC News

First Black Hole Pic: As expected, scientists released the first-ever picture of a black hole. The black hole is at the center of a huge galaxy called Messier 87, about 55 million light years away from Earth. Along with the historic picture, scientists also published six papers on the black hole. See the pic here...
Read more: Science News, The Verge

New Human Species: Researchers have made a remarkable discovery: they've found evidence of a previously unknown human species. Scientists say they the species was able to walk upright, but still had feet shaped for climbing. They're believed to have lived there more than 50,000 years ago.
Read more: WSJ, Reuters, USA Today
Thing to Know Thursday:
The Future of Video Streaming Subscriptions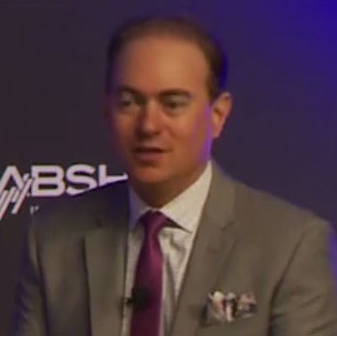 Today's Guest: Dan Rayburn
Dan Rayburn is considered to be one of the foremost authorities, speakers, and writers on streaming media technology, content, and business models. An avid blogger, author and analyst, Dan is often referred to as the "voice of the industry" and has been quoted in more than a thousand news items by nearly every major media outlet over the past twenty years. His blog is one of the most widely read sites by content owners, Wall Street money managers and industry executives in content, broadcast and media sectors.
An email a day keeps the boring away.
Sign up for FREE to get episodes sent straight to your email inbox so you're always in-the-know: