theNewsWorthy: Thursday, January 3rd, 2019
ALL THE NEWS YOU NEED - IN ONE PLACE.
(in less than 10 minutes!)
Today's sponsor is Babbel, the #1 selling language learning app in the world. Go to Babbel.com to try it for free.

Want more? I got you.
All the news stories mentioned in today's episode are listed with links below, so you can spend as much -- or as little -- time as you want perusing the latest happenings...
(Scroll down to read more about our Thing to Know Thursday topic …)
New Congress: Newly-elected members of Congress will be sworn in today. The Senate will still be controlled by Republicans, but the House will now have a majority of Democrats. Democrat Nancy Pelosi will likely be Speaker of the House again. The first priority for Congress will be dealing with the ongoing government shutdown. Yesterday's meeting between President Trump and leaders from both parties ended with no deal.They're invited back for a second meeting tomorrow.
Read more (Congress): FOX Business, Bustle, New York Times
Read more (Shutdown Status): The Hill, Time, The Washington Post, Wall Street Journal

Trump Criticism: One of today's incoming senators is Republican (and former presidential candidate) Mitt Romney. Romney made headlines this week for writing an op-ed saying President Trump has "caused dismay around the world." Trump is hitting back: he tweeted that Romney should focus on border security and be a team player.
Read more: Reuters, The Hill

Apple's Bombshell: Apple stock dropped after the company put out a rare warning that its revenue will be lower than expected. Apple is blaming the drop on a few factors, like the ongoing trade war with China and fewer customers upgrading iPhones. Other tech stocks are also feeling the impact.
Read more: AP, Business Insider, CNBC

Netflix vs. Saudi Arabia: Netflix took down an episode of Patriot Act with Hasan Minhajin Saudi Arabia after a warning from the government there. The episode is critical of Saudi Arabia, but critics say Netflix should have stood up for freedom of speech. Netflix's statement says it got a valid legal request and is complying with local laws.
Read more: Variety, NBC News

Tidying Up on TV: You may remember the popular 2014 book The Life-Changing Magic of Tidying Up. Well, now the author has her own reality show on Netflix. Watch the trailer.
Read more: Netflix/YouTube, New York Times

#BirdBoxChallenge: And another Netflix original, Bird Box, has inspired a new social media challenge with videos and memes of people walking around blindfolded. Netflix is now tweeting: please don't try this at home and end up in the hospital.
Read more: Mashable, TechCrunch

Coachella Lineup: Childish Gambino, Tame Impala and Ariana Grande will be the headliners for this year's Coachella festival. A rumor that Kanye West was going to be headlining turned out to be false, but he has some other news this week: he and Kim Kardashian are expecting their fourth child –a baby boy – through a surrogate.
Read more (Coachella Lineup): People, Page Six
Read more (Kim & Kanye's 4th Kid): Us Weekly
Thing to Know Thursday:
The Boring Company's Underground Tunnel
Read more: TechCrunch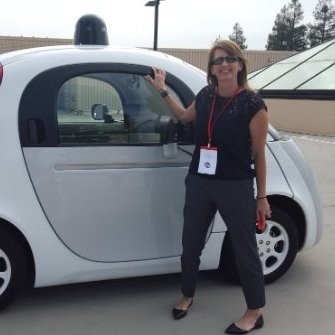 Today's Guest:
Kirsten Korosec
Kirsten Korosec is a senior reporter at TechCrunch, who specializes in transportation. She's also the co-host of The Autonocast about transportation technology.
An email a day keeps the boring away.
Sign up for FREE to get episodes sent straight to your email inbox so you're always in-the-know: